Gregory E. Steuerwald
Partner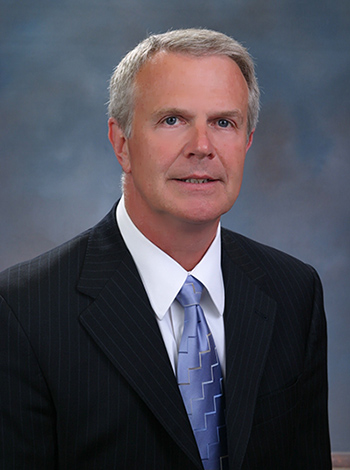 Prior to attending law school, Greg utilized his Masters in Criminal Justice by serving as a probation officer for two years. While attending Indiana University – Indianapolis, he served as an intern in the Hendricks County Prosecutor's Office. Upon graduation from law school, he joined his present law firm and has been there since 1981.
While serving at the current firm, Greg has had the privilege of representing various units of local government including towns, libraries, and townships. This includes the Hendricks County Board of Commissioners, the Hendricks County Plan Commission and Board of Zoning Appeals, the Hendricks County Health Department, Hendricks Regional Health and the Hendricks County Solid Waste Management District. Additionally, Greg has worked hard to represent individuals in areas ranging from real estate and business law to domestic relations and civil litigation.
Greg was appointed to serve in the Indiana House of Representatives in 2007 and has been re-elected to serve every term up to the present. While serving in this role, Greg has focused on implementing laws to keep Hoosiers safe. He authored the law providing the foundation for a revision of Indiana's criminal code, which had not been revised in over 30 years. The new code provides for certainty in sentencing and keeps the most violent offenders in prison longer.
Greg was the recent author of House Bill 1006 which was a law enforcement enhancement bill supported by all law enforcement agencies. The bill establishes a procedure allowing the Indiana Law Enforcement Training Board to decertify an officer who commits misconduct. It also prohibits chokeholds under certain circumstances and criminalizes an officer turning off a body worn camera to conceal criminal behavior. Other states are using this legislation as a blueprint and following Indiana's lead in implementing innovative solutions to further support local law enforcement, and boost accountability and transparency in policing.

Education
Law Degree: Indiana University School of Law-Indianapolis (J.D., 1981)
Masters: University of Alabama (M.C.J., 1977)
Undergraduate Degree: Indiana State University (B.S., 1974)

Bar Admissions
Admitted to Indiana Bar (1981)

Court Admissions
U.S. District Court for the Northern District of Indiana
U.S. District Court for the Southern District of Indiana
Practice Areas
Business Law
Civil Litigation
Real Estate
Government & Municipal Law
Wills & Probate
Representative Cases
Himsel v. Himsel, 122 N.E.3d 935 (Ind. Ct. App. 2019).
King v. Conley, 87 N.E.3d 1146 (Ind. Ct. App. 2017)
In re Larry L. Thompson Revocable Tr., 954 N.E.2d 1056 (Ind. Ct. App. 2011)
Hubler Realty Co. v. Hendricks Cty. Assessor, 938 N.E.2d 311 (Ind. T.C. 2010)
Honors/Awards
President's Citation, Indiana State Bar Association (2019)
Legislator of the Year, Indiana Sheriff's Association (2019)
Legislator of the Year award from Indiana Chiefs of Police (2008)
Champions of Justice Award from Indiana Judges Association (2013)
Hendricks County Outstanding Economic Development Award (1996)
Certificate of Recognition in Family Mediation Training
Professional Affiliations
Indiana State Legislator since 2007
House of Representative Committees:
Courts and Criminal Code Committee
Chairman of the Ethics Committee
Chairman of the Judiciary Committee
Indiana State Bar Association
Hendricks County Bar Association
Community Involvement
Member at Avon united Methodist Church
Member of the Danville Chamber of Commerce