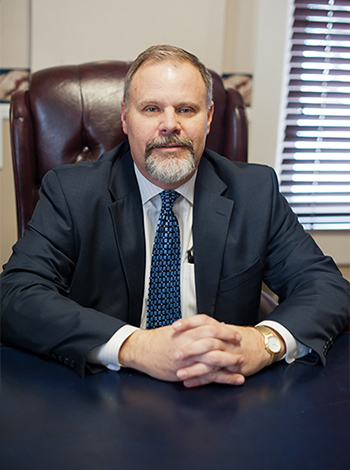 Herb has practiced law in Hendricks County, Indiana for nearly three decades.  His case experience includes the areas of criminal defense, murder, and all felony and misdemeanor cases.  He also handles domestic relations (including divorce and post-divorce actions), probate and estate law, adoption, small claims trials and numerous other areas of civil litigation.  He practices throughout Central Indiana and has been involved in cases across the State of Indiana.
Herb was born in New Castle, Indiana and attended Shenandoah High School.  He attended Franklin College in Indiana and played football and baseball.  He received his degree, with honors, from Franklin in 1986 (B.A., 1986), his Master's Degree from Mankato State University in Minnesota in 1988 (M.A., 1988); and his law degree from Indiana University School of Law in 1993. (J.D., 1993).
Herb has practiced extensively in the area of criminal defense and domestic relations and family law.  He has also served as a Guardian Ad Litem and a Family Mediator.  Herb has been selected by various judges to serve as Judge Pro Tempore and has decided hundreds of cases in that role.  He has, in the past, served as Judge Pro Tempore in the Hendricks County Circuit and Superior Courts; Brownsburg Town Court; Plainfield Town Court and the Pike Township Small Claims Court.
Herb, who has an undergraduate degree in education and is a licensed teacher, taught and coached at Plainfield Middle/High School, and has also coached youth basketball, baseball and football.  He has served previously on the Brownsburg Little League Board, and has been involved in numerous community and charitable activities over the years throughout Hendricks County.
Education
Law Degree: Indiana University School of Law-Indianapolis (J.D., 1993).
Masters: Mankato State University (M.A., 1988)
Undergraduate Degree:  Franklin College of Indiana (B.A., 1986)
Bar Admissions
Admitted to Indiana Bar in 1994
Court Admissions
S. District Court for the Northern District of Indiana
S. District Court for the Southern District of Indiana
Practice Areas
Criminal Defense
Divorce
Family Law
Mediation
Honors/Awards
Decided hundreds of cases while serving as Judge Pro Tem
Multi-year winner of the Hendricks County Flyer's "Best of Hendricks County" attorney award.
Professional Affiliations
Hendricks County Bar Association
Indiana State Bar Association
American Bar Association
Community Involvement
Plainfield youth basketball, baseball, and football coach
Former Brownsburg Little League Board Member